Data Solution
Leverage Progressive Web App Technology
Enterprises are witnessing higher engagements on apps due to push notifications and other engagement features. They are also witnessing lower revisit percentages, higher uninstall instances & memory consumption issues. With Karix' push feed timelines, enterprises are able to tackle these challenges and provide their customers with a deeper and richer engagement experience.
Deeper Customer Engagement with Conversational UI
Karix's ACTON platform can engage your customers with rich and actionable notifications by embedding transactional buttons within messages, communicate alerts, offers and enable bill payments.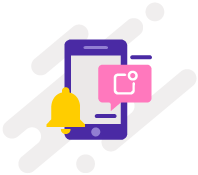 Notifications
Auto push or define schedules for in-app pop-ups, interstitials, banners and interactive push notifications that support rich media. A messaging platform that can be used for various used cases like revenue, information, polling, contests and Segmentation by location & tagging.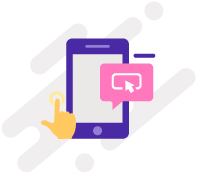 Actionable buttons in messages
Engage with actionable promotions and notifications with Call for ACTION buttons that can be adapted & customized with every notification and outcome. These buttons could be 'Like', 'Pay', 'Contact me', etc.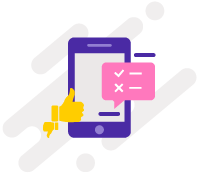 Feedback & Surveys
Create surveys for capturing customer response at various touch points varying from retail store experience or online buying experience, call center or installation experience.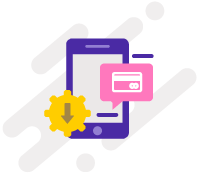 Payment Gateway integration
Connect to Payment Gateway providers with the platform APIs for seamless buying experience initiated from the notifications itself.
Chat Functionality
A secure and private medium to form purposeful and professional workgroups or to share ideas and tasks securely among a closed group of people.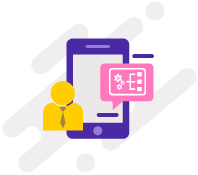 Project Management
Intelligent process execution that acquires data from various integrated databases and applies that information for the execution of another desired outcome.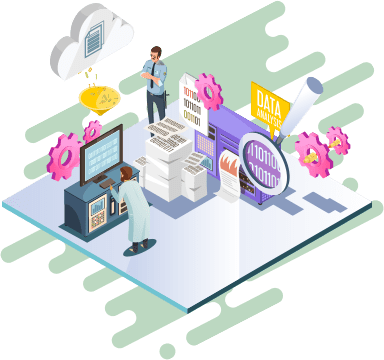 Get a start with ACTON – Actionable messaging + Business Process Engine
As Convenient as Chatting: Conversational interface that is built on progressive web app technology
Commands in Reply Message: Ability to issue commands through messages. For example '&BAL' will fetch your account balance.
No Limitations on Type of Content: Ability to embed images, video and document.
No Compromises on Security: Secure communication like OTP, account number and so on can be protected by a password.
Seamless API support: Supports a rich set of restful APIs to send and receive messages. The APIs are simple to use and can be accessed over the internet (cloud) for ubiquitous access.
Legible. Presentable. Useful.: Messages are always formatted and presentable. This is especially useful when communicating promotional content, presenting a bill etc.
Sample use-cases and features

Notification on Push App and In-app

Detailed reports on delivery and open for every notification sent

Support for sending out notification in plain or multi-media including HTML, Video, Images, Gif.

Supports actionable buttons in the message that can be linked to a mobile page.

Send forms for feedback, input, signup and a lot more

Stitch the notification actions to auto response that could trigger a voice call, SMS, email or even a complex flow.

Run polls, contests and surveys for engaging users in real-time

Powered by a strong workflow manager that can help manage requests from the mobile back into a workable solution.

Integrate a payment gateway for making payments into your business, wallets or mobile recharge.

Detailed reports on the interactions can be provided for analysis.

Supports chat functionality to connect your users to your contact center for real-time support

Also supports task assignment and tracking for team management.
FEATURED SUCCESS STORIES
OF SELECT CLIENTS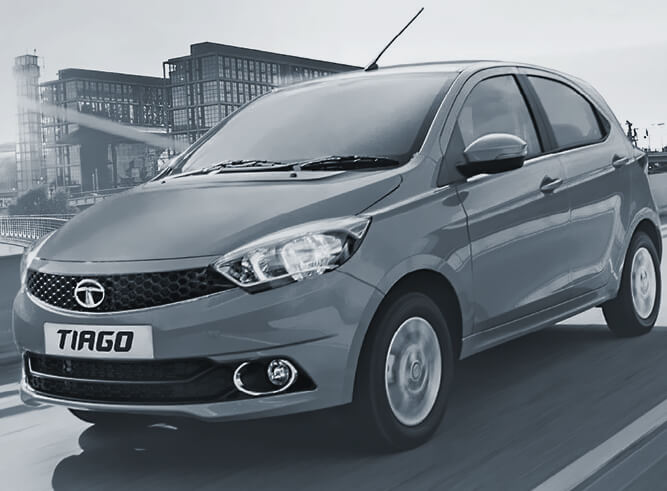 TATA MOTORS
Objective:
Enable a cost-efficient customer service program, Test drive and LMS program and market offerings and services using SMS as a communication channel
Karix Offering:
Implemented its middleware at their premises which is integrated with their Siebel CRM and configured automated SMS. Provided exclusive short code 5616161 for users to inquire. Send test drive schedule and contact to the potential lead.
Benefits:
- 12 million Monthly Interactions
- Automated Customer service Alerts through SMS
- Reduced calls to call centre and wait time.
- 100 Plus keywords being managed on the code 5616161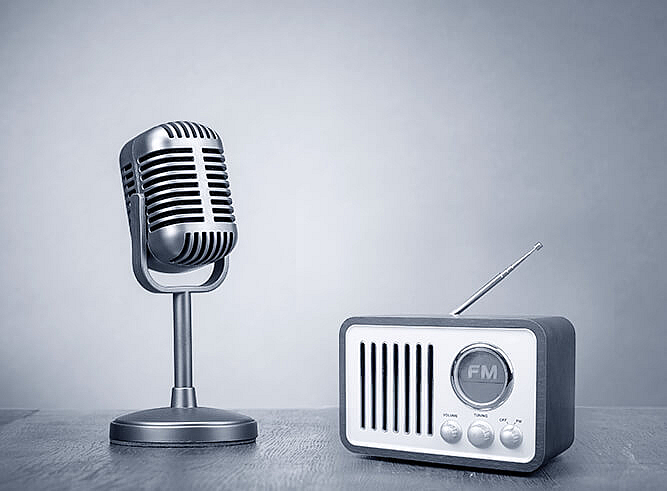 MANN KI BAAT
Objective:
Facilitate Prime minister, Mr. Narendra Modi's initiative "Mann Ki Baat" on voice – the largest citizen outreach program in the world and ensure it is is more accessible and reaches a wider audience via mobile
Karix Offering:
Facilitated Prime minister, Mr. Narendra Modi's unique initiative "Mann Ki Baat" via mobile. All a user had to do was to give a missed call on 1922 and hear the speech in various languages of their choice.
Benefits:
- 26 M registered unique user base
- 06 M missed calls received in a
- 1.5 M outbound calls pushed in a day
- 60 M unique missed call received in a month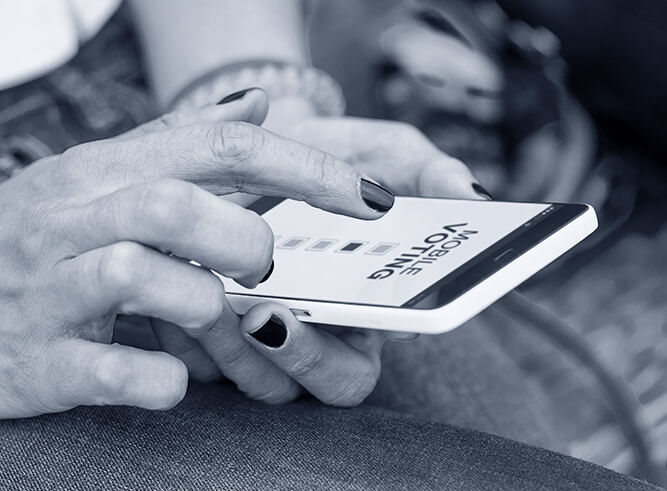 STAR PLUS
Objective:
To provide a FTEU (free to end user) real-time voting program for Star TV's leading reality shows
Karix Offering:
Provided a voting and polling application via missed call services for Star TV's reality shows like Nach Baliye, Dance+ & Dil Hai Hindustani.
Benefits:
- 1.1 Lacs missed calls recorded and processed per minute during the episodes telecast.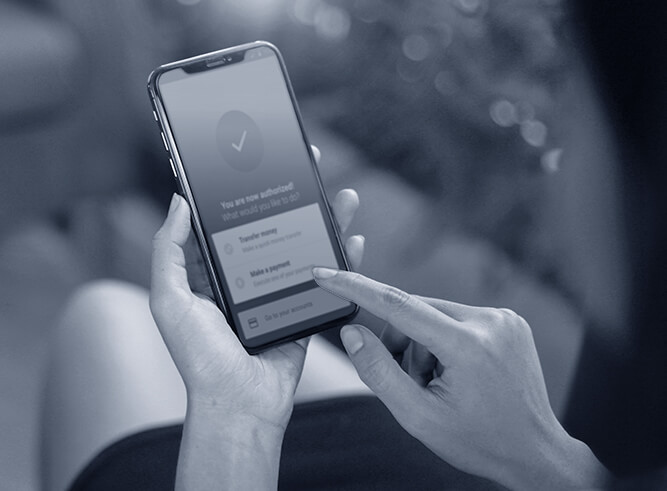 HDFC BANK
Objective:
To enable automated real-time communication to its customers to inform them about the transactions undertaken on their bank accounts/credit cards and upsell other products/services
Karix Offering:
Enabled automated real-time communication to its customers using SMS and Email APIs to inform them about the transactions and upsell other HDFC products. Our team also assisted HDFC to execute their campaigns.
Benefits:
- 200 M+ messages being processed monthly
- 1.62% click through rate recorded
- 108,000 avg unique visitors click on the url in sms
- 50 M+ email transaction being processed monthly
Looking for this solution?
Fill in your details and we will get back to you.