About AU Small Finance Bank
What started as a venture by a first-generation entrepreneur as a Non-Deposit taking NBFC in a one-room office with no capital in 1995, has flourished into a Fortune India 500 company (2017-18). AU Bank acquired scheduled bank status in 2018 and was also listed on the National and Bombay Stock Exchange in the same year.
With a footprint spread across 11 states, with 395 branches and 292 ATMs, 60% of AU's branches are in rural and semi urban areas (Tier 2-6). AU Bank won the Best technology orientation award, ET Now in 2018, so, it comes as no surprise that AU Bank is one of the Leaders in transforming the Digital Banking scenario.
Their Objective
AU Bank's brand values revolve around financial inclusion and offering an uncomplicated banking experience to its customers. The bank was looking for a convenient means to connect and offer customer support for simple service requests to the Indian masses, especially in tier 2-4 locations. As part of their expansion strategy, they were also looking at alternate popular channels to launch digital banking services besides their tab-based application to simplify and automate the cumbersome process of opening a bank account and encourage mobile-first banking in the Indian masses.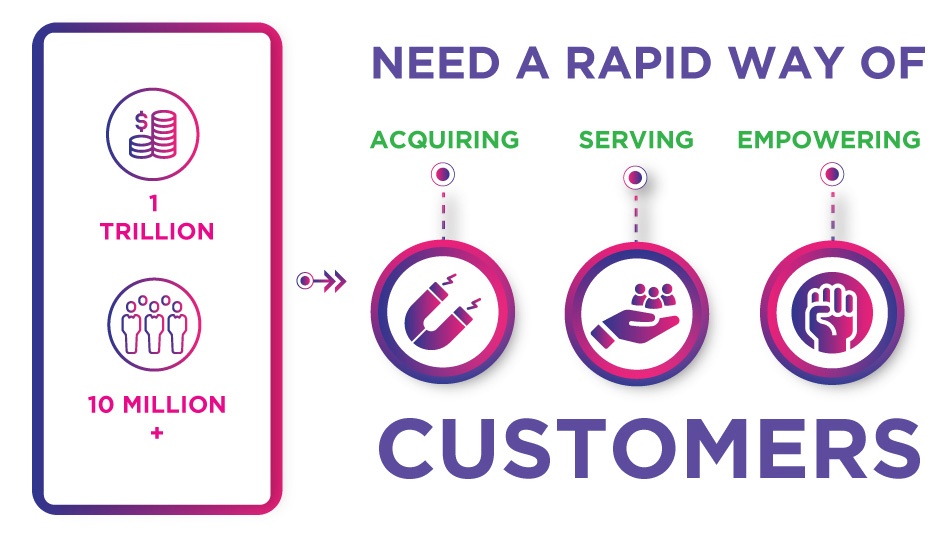 Karix's Solution
Keeping AU Bank's vision in mind, powered by our advanced conversational and compute platform, Karix is delivering a host of solutions for AU Bank using WhatsApp as a channel. Our Actionable Messaging platform powers the messaging on WhatsApp, using automated workflows, a business process management engine, while integrating with AU Bank's core, external and middleware APIs to map and pull out data.
Using Karix's versatile platform, AU Bank's interested customers will be able to initiate the opening of their savings account, initiate service requests and do much more using an interactive chat-like interface on WhatsApp.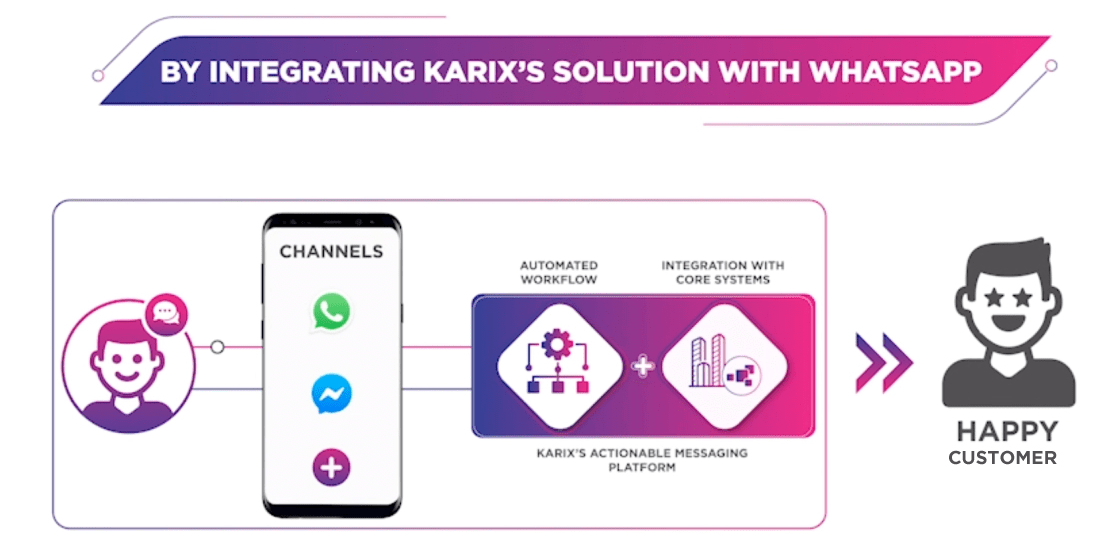 An omni-channel solution
Karix offers a mix of channels to AU Bank for the smooth launch of their new WhatsApp service.
AU Bank will promote this new initiative on SMS with details of a missed call number that users can call to opt-in to receive WhatsApp messages. Once the user gives a missed call to this designated number, he will receive a Welcome message and the service menu with a host of other options for him to start banking with just the tap of a button on WhatsApp. At the time of opening a bank account, the user has to validate Aadhaar for eKYC for which the user is sent a PWA link which opens in the mobile's browser making the whole process secure and convenient.
A customer can carry out simple transactions including checking their account balance, last 3 account transactions, cheque book status, weekly passbook, request for statements or even stop cheques, all by sending WhatsApp messages to this new service. Users with multiple accounts will also have the option to select their account prior to selecting a service request.
Opening a Savings Bank Account in less than 5 minutes
The results
500+

savings accounts opened till date

2000+

missed calls so far

5000+

WhatsApp interactions so far
Sanjay Agarwal, MD & CEO, AU Small Finance Bank, said, "WhatsApp has become a part of the day-to-day life of people all over the world in a very short span. It offers a host of features through its user-friendly interface. Considering the huge impact it has created in people's lives, we at AU Bank, decided to use this platform for people to engage with our potential audience. While it is an important step in our mission to simplify banking through digital solutions, we are optimistic this will enhance the way people see banking in India."
Fill in your details and we will get back to you