Karix Mobile (part of Tanla Group), is a leading UCaaS (Unified Communications as a Service) provider and has recently expanded its product portfolio with the acquisition of Gamooga, a top-of-the line Marketing Automation solution and introduced services for the WhatsApp Business API. Inspite of stepping into newer products and territories, Karix still maintains the market leading position as a trusted provider for A2P SMS services globally. Karix winning two awards at the Messaging and SMS Global 2019 event is a testimony to that.
Karix was awarded with the Best Enterprise Partnership and Best Messaging Enterprise Product awards at Messaging and SMS World, London. The event is one of the biggest events and award function for the global messaging community and brings together 180+ messaging companies from 52 countries. It was held at the Guoman Hotel in London from December 2-4, 2019.
Excited by this global recognition, Deepak Goyal, COO, Karix Mobile, said, "We are beaming with pride to win not one, but two awards at this international messaging platform. These awards motivate us to work harder to continue to deliver the excellent services expected from Karix; and at the same time are a physical testimony to our commitment to innovation and hard work. I would like to congratulate our Karix team for making this happen and thank our customers for their consistent trust in our services for all their customer engagements."
Karix won the Best Messaging Enterprise Product award under the Best Product/Service category for its renowned on-premise SMS solution – ConnectOne. For organizations that require all communications in-house due to data security policies or government regulations, critical data needs to reside within the secure perimeters of the organization. To assist such organizations send out SMS communication to their customers, Karix's on-premise SMS solution has benchmarked the on-premise enterprise product in the industry.
Karix's on-premise solution can be used by organizations of various sizes and scale. It uses a very small footprint and can run even on a desktop system to process messages for small requirements and scale to high-end servers. ConnectOne can deliver a high scale of operation that can process over 3 million messages per hour on a normal server configuration over the internet.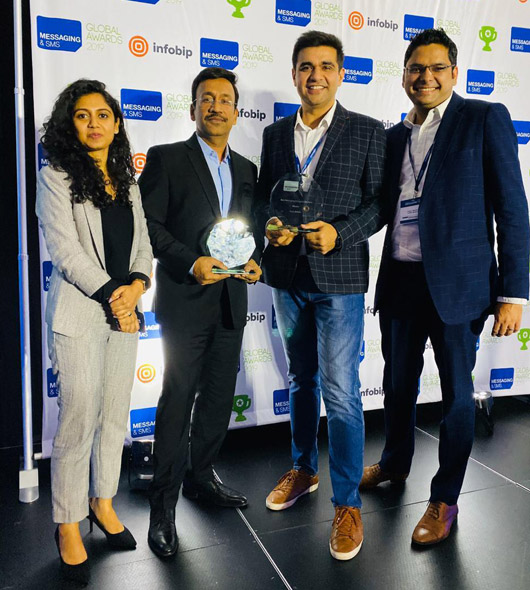 Ruchika Singh, Manager, Sales ; Deepak Goyal, COO ; Sidhant Sachdev, Senior VP, Sales & Carrier Relations ; and Raghu Marwaha, Associate Director - Global Strategic Partnerships
The company was also awarded the Best Enterprise Partnership award for their association to help automate the Passport issuance system for the Government of India's Passport Seva Project. This is a flagship project worth millions of USD for the Indian government to digitize the user experience for any Passport related services. Karix was the chosen partner to enable SMS Communication to share stage – wise status updates with applicants that opt for the SMS service. Karix delivers over 15 Million SMS-es every month during various stages of Passport application.
The Messaging & SMS World Awards, organized by Capacity Media, focuses on the recognition of global achievements, successes and innovations over the past 12 months in the telecom sector. The winners were selected by a team of independent judges from the detailed information submitted by dozens of entrants globally along with testimonials from their customers.
About Karix Mobile
With 18 + years of industry experience and a stronghold in all major industry sectors, we are one of the world's largest UCaaS providers for enterprises, developers & telecom operators. Being the preferred partner for fortune 500 companies globally, we empower organizations to enable smarter, relevant and personalized conversations with their customers. Karix offers an unmatched combination of global connectivity, on-demand scalability, omni-channel capabilities and ready-to-deploy products for all your marketing and customer care initiatives.
Marketing Automation | Business Process Automation | Chatbots | Live agent chat | SMS | Voice | Email | WhatsApp Business | SMS Hub | SMS Firewall | SMSC
220 Bn+ Communications processed annually
2000+ Marquee enterprise customers
1000+ Ready to deploy business APIs
ISO 27001:2013 & ISO 9001:2015 certified
For more information, write to us at marketing@karix.com
Fill in your details and we will get back to you