With over 2 billion active users monthly, WhatsApp is a platform that brands simply cannot ignore if they are to round out their marketing strategy.
If you are on the fence about looking at WhatsApp as a potential channel for your brand, 2021 is as good a time as there has ever been.
Even if you have decided you are going to market on WhatsApp, you may not be clear about how the platform can uniquely enable you to reach the audience you are looking for.
Today, we are going to look at the best historical marketing campaigns on WhatsApp and understand what made them so successful, and how you can use them in your own promotions.
Without further ado, let us begin.
1. Netflix – Interactive movie recommendations
One of the major questions users might ask themselves as they look at their Netflix feed is "What should I watch next?" There's only so many times you can rewatch The Office.
Netflix decided to re-engage users who were members but hadn't been spending much time on the platform. The idea of the campaign is simple – once users opted in, Netflix would send them recommendations for new shows or movies they might be interested in.
Of course, these aren't any random recommendations. Netflix already has a comprehensive recommendation engine under the hood which they leveraged to send people personalized suggestions on their WhatsApp chat.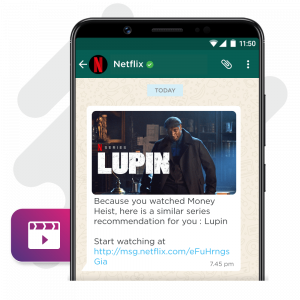 2. Hellmann's – Professional chef advice at your fingertips
In 2014, a Brazilian mayonnaise brand called Hellmann's dramatically improved their conversions by creating a WhatsApp campaign called 'Whatscook'. As part of this campaign, users had to go to a special landing page and enter their phone number to start receiving updates from Hellmann's.
Once they had signed up, they received a message from an actual human chef who asked them to upload a picture of the ingredients they were working with. Once the pictures were sent, the chef would then give them a recipe they could make using their ingredients along with Hellmann's.
A staggering 4 million people visited the website and over 13,000 people registered. On average, users spent a whopping 65 minutes chatting to the chef. As you can imagine, Hellmann's brand loyalty soared through the roof.
3. Nerolac – Reprioritizing health and hygiene in a changing world
The pandemic shifted people's priorities in small and large ways. All of a sudden, health, hygiene and protecting oneself from harmful bacteria and viruses became the most pressing need of the hour.
To respond to this shifting landscape, Nerolac created a specialized range of products – their Hygiene Care range and the Nerolac Excel Virus Guard anti-viral interior emulsion paint. For dispensing information about each of these products, separate information flows were created.
People interested in finding out more about these products were taken to the automated WhatsApp chat flow where they were asked to enter their name and mobile number, at which point they would be sent a series of informational/FAQ content about the product with links to learn more. Prospects who wanted more information could also request a call-back from a Nerolac representative.
Interestingly, the campaign also created a quiz for painters who would be undertaking the potentially risky act of heading to different locations and exposing themselves to infection while working. This quiz, called the Nerolac Atmanirbhar Painter, guided painters through the basics of protecting themselves and their clients while on duty by testing their knowledge of sanitation and hygiene procedures and was available in several local languages.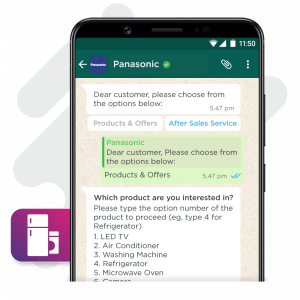 4. Panasonic – Creating accessible lines of communication with customers
In the electronic and white goods business, customer support and product experience are at a premium and prospects prefer doing their own research online before they step into a physical store.
The advent of the pandemic in 2020 meant that a physical store was no longer an avenue available to interested buyers. Call centres weren't operational, and customers had to engage with brands digitally.
To this end, Panasonic decided to focus on WhatsApp as the preferred mode of customer acquisition and support for end customers, field distribution teams and trade partners across rural, semi-urban and Tier 2/3/4 cities. They created interactive product guides, audio and video materials and focused on natural communication over chat without any menus.
To market this campaign, Panasonic created click-to-WhatsApp ads, QR codes that led users to WhatsApp and even sent out SMS messages with a link to their WhatsApp customer service.
The campaign launched in December 2020 and has been a roaring success on all fronts, with sales conversions being boosted by 500%! Within the first 6 months, more than 200,000 people contacted Panasonic over WhatsApp chat.
5. AU Bank – Celebrating doctors and their selfless service
The pandemic has once again brought to the forefront the heroic efforts that doctors and frontline workers in our society make day in and day out.
To celebrate their greatness and allow patients to express their gratitude, AU Bank created a WhatsApp campaign that allowed patients to send customizable virtual greeting cards to their doctors over WhatsApp.
As part of the campaign, users were sent an SMS with a custom link which when clicked, redirected them to a WhatsApp conversation with a pre-loaded message ready to hit send "Create an e-greeting card for my Doctor".
Once the user proceeds, they are asked to enter their doctor's name, mobile number and their own name so the doctor knows who sent them the greeting. The chatbot would then create a personalized rich greeting card from the details entered which would then be sent to the doctor in question.
6. Saffola Beat the Crave – Tracking your progress with accountability
Beat the Crave was launched by Saffola to promote their Active Slimming Nutri-Shake. This was an India-specific campaign.
As part of the campaign, Saffola would send users entertaining and informative voice notes (ranging from rap music to funny sketches to advice from actual nutritionists) to play when their junk food cravings came up.
Once you are onboarded into the campaign via their landing page, you can send messages to Beat the Crave, and you would receive a motivational voice note or message encouraging you to stay on the diet wagon. Interestingly, the campaign revealed that users in Mumbai and Delhi preferred the comedic messages whereas users in Kolkata liked the celebrity advice.
The campaign was a smashing success, winning awards and reportedly increasing sales of Nutri-Shake by 483% within 30 days of the campaign launch.
7. Adidas Rent-A-Pred – Connecting communities that use your product
One of the major problems people playing team sports on an amateur level face is last-minute dropouts.
As part of the launch of their Predator20 Mutator line, Adidas created a campaign which allowed amateur football teams to find last-minute replacements over WhatsApp. What makes this special is that the replacements wouldn't just be any regular Joe – they would be some of London's top football talents including the legend Kaka.
The promise of the campaign was simple – do not be disheartened if your teammate drops out before a crucial game, because the replacements we send will be even better.
The campaign went viral with how it humorously looked at the unfairness of hiring a pro player for your amateur team. It was covered by over 60 publications including Sky Sports News and SportBible.
8. Maggi Germany – AI-powered interactive cooking classes
Maggi's WhatsApp campaign created Kim – a digital assistant that became a 24/7 access point to Maggi for their customers. This unique setup allowed Maggi to connect personally with their audience and provide them an educational experience.
As part of the campaign, Maggi created a virtual cooking syllabus entirely deliverable over WhatsApp. 'Kim' would conduct these online classes and guide users with step-by-step recipes, videos, quizzes and even answered any questions they might have.
The brand advertised this feature with Click-to-WhatsApp ads on Facebook and Instagram. People who clicked the link were taken to a WhatsApp conversation where they could enroll for the cooking lessons and decide what delicacy they feel like creating next.
As a result of this campaign, Maggi experienced a 2x increase in customer retention during June-August 2020. Users sent 200,000 messages to the brand within just the first 8 weeks of the campaign being live.
We hope this list of innovative WhatsApp campaigns helps spark some ideas for your next marketing efforts. We post great content centred around WhatsApp, marketing and advertising regularly so make sure you bookmark the blog so you don't miss out!
Previous Post

10 Use Cases to Help Grab a Larger Share of Festive Shoppers Online
---
How to Use WhatsApp Business API For Commerce Or E-Commerce
---
Next Post