The customer journey is long and nuanced, and as a brand you must make sure it is as hassle-free as possible. You need a marketing solution that works for all the major touchstones in a customer's experience with your brand – from the time they first hear from you to the time they are enthusiastically recommending you to their friends and family.
Since so much of our communication in the modern age happens over mobile devices, WhatsApp Business is uniquely suited to serve as a solution that works for several stages in your funnel.
Today, we will be exploring how WhatsApp helps you create an unforgettable customer journey that adds value, solves problems, and keeps people engaged all the way through.
1. Customer Acquisition
I. Website Chat Bubbles
One of the major rules of thumb for creating a successful WhatsApp campaign is simple – Make sure there are as few steps as possible required for a customer to begin a conversation with you.
Website chat bubbles have become widely accepted and having a WhatsApp chat bubble means the user can easily start a conversation with your brand on their laptop and continue it on their phone when they step away from their desk.
Since the user is opting in to chat with you, it eliminates them having to first save your number to their phone before they can initiate communication.
II. Click-to-WhatsApp Ads from Facebook
Within your PPC campaigns on Facebook, instead of creating a standard landing page with a catalogue of products, you can send users to a WhatsApp conversation.
WhatsApp has become the preferred mode of communication for many people in their day-to-day lives which makes it very natural for them to be messaging you back and forth on WhatsApp.
Creating automated conversation flows within WhatsApp is quite simple so you can have a campaign-specific funnel that guides users through to buying what they saw on the ad they clicked.
III. QR Codes
QR Codes are a fantastic tool to get people on your WhatsApp list. In keeping with our theme of eliminating unnecessary steps, QR codes allow a prospect to begin a conversation with you almost instantaneously.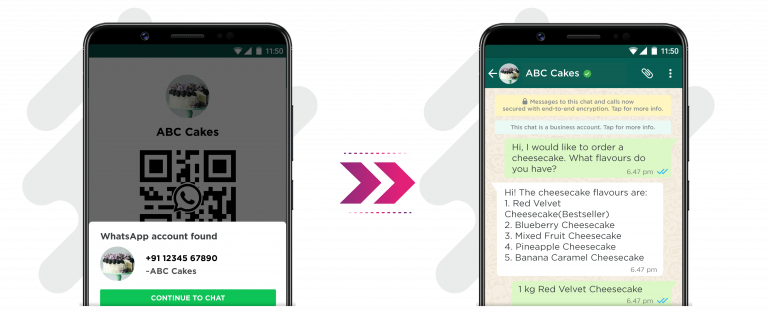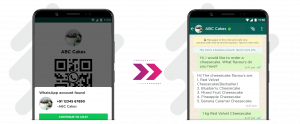 All they have to do is scan the QR code and voila – they are in a WhatsApp chat window with you where they can ask questions, ask for guidance and have you address any doubts they might have.
This kind of access to a brand is unprecedented, and people are more likely to trust you if they essentially have a 24-7 open line of communication with you.
IV. Product in-stock notifications/Tips and tricks
For mobile users specifically, you can create opt-ins that lead to WhatsApp communication. For example, if you are a supplement brand, you can have users opt-in to receive daily health and fitness tips from you.
Another effective way to use WhatsApp is as a notification or reminder service for when specific products go on sale or are back in stock.
2. Engagement
Once people are in your ecosystem, you need to make sure their interest level and brand stays at a high level. WhatsApp Business can enable this in several diverse ways.
I. Interactive product recommendations
Everyone likes a bespoke recommendation. Even though on an abstract level people may be aware you have thousands (or more) of customers, they still like having a product specifically picked out for them based on their preferences.
The WhatsApp Business API allows you to create chat flows that ask the user certain questions and then query your product database on the backend to produce recommendations based on their answers.
For example, you could ask someone
What is your favourite colour?
What is your main fitness goal? (Build muscle/lose weight)
Do you prefer working out indoors or outside?
And then you recommend them a set of track pants or shoes (with a convenient link to purchase said product) depending on what they answered.
II. Quizzes and surveys for data gathering and entertainment
Getting regular feedback from your market is key for adjusting and optimizing your marketing efforts.
An uncomplicated way to get some feedback and make it fun for the audience is to create a quiz or a survey that people can partake in over WhatsApp.
These check-ins with your customers can reveal some insights that you may not have considered. For example, you may find out that most of your customers use your products at the workplace (tea/coffee/audio equipment). With this information, you can guide your next marketing campaign to appeal to working professionals.
You can also discover some areas for improvement if you ask your customers what their biggest problems are while using your products.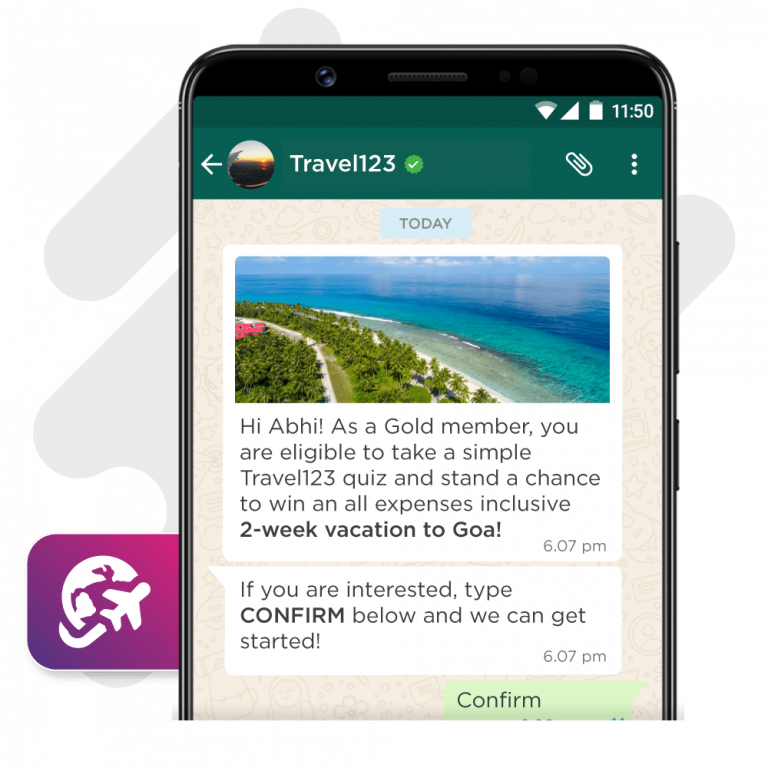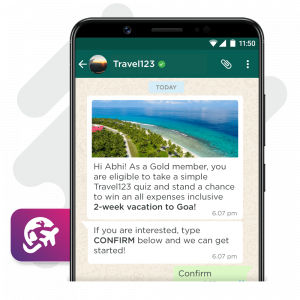 III. Help Guides + FAQs
As an expert in your industry, you should regularly create high-quality, original guides that double up as a product brochure and send them to users over WhatsApp.
Within the guides, you can lay out best practices for usage and include subtle recommendations from your product catalogue.
For example, let us say you are a personal grooming brand – you can create a well-illustrated guide with professional pictures that talks about the best practices for grooming and which products people should use to achieve that well put-together look.
IV. User-generated Content
User-generated content is a terrific way to garner social proof and leverage your most enthusiastic customers as evangelists for your brand.
You can ask people regularly to send in photos or videos of them using and enjoying your products over WhatsApp. The best ones can feature on your social media and other marketing channels.
In addition, you can also send these videos and photos to other prospects if they are considering buying a specific product that was featured in the user-generated video/photo.
3. Conversion and Sales
People make purchasing decisions when they trust a brand and feel like they are listened to. As repeated real-world examples have shown, WhatsApp is exceptionally well suited to boosting sales and conversion.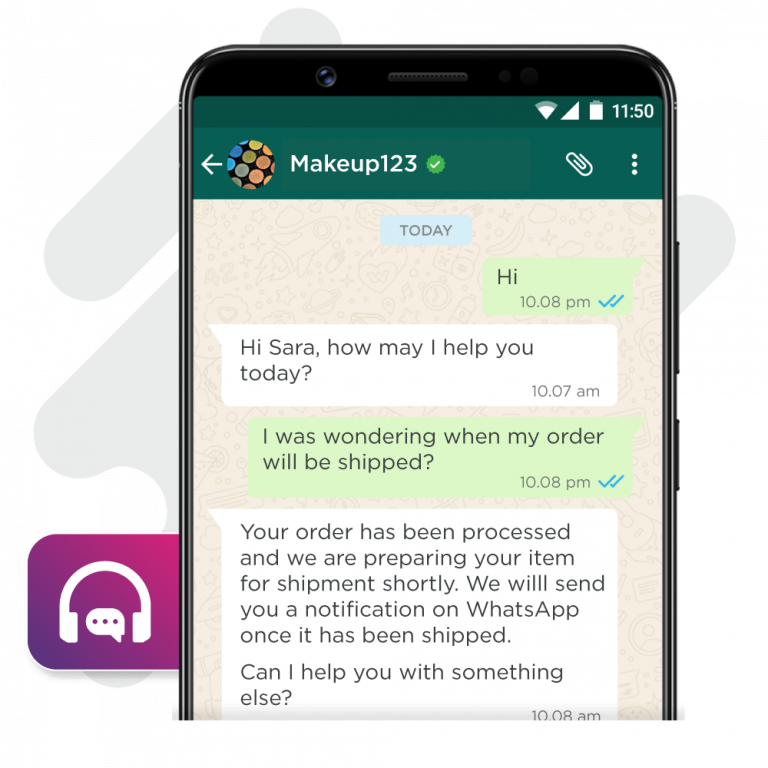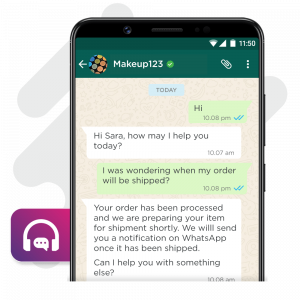 I. Real-time customer support
Several surveys have shown that live chat is the preferred mode of communication with a brand for most online shoppers.
One of the best parts about having your customer service channel on WhatsApp is that you are conversing on a platform where people are already invested in having private conversations with people they trust.
Plus, there is the unmatched convenience for customers of simply opening their favourite chat app and within a few seconds or minutes, having their query answered by a brand they are interested in doing business with.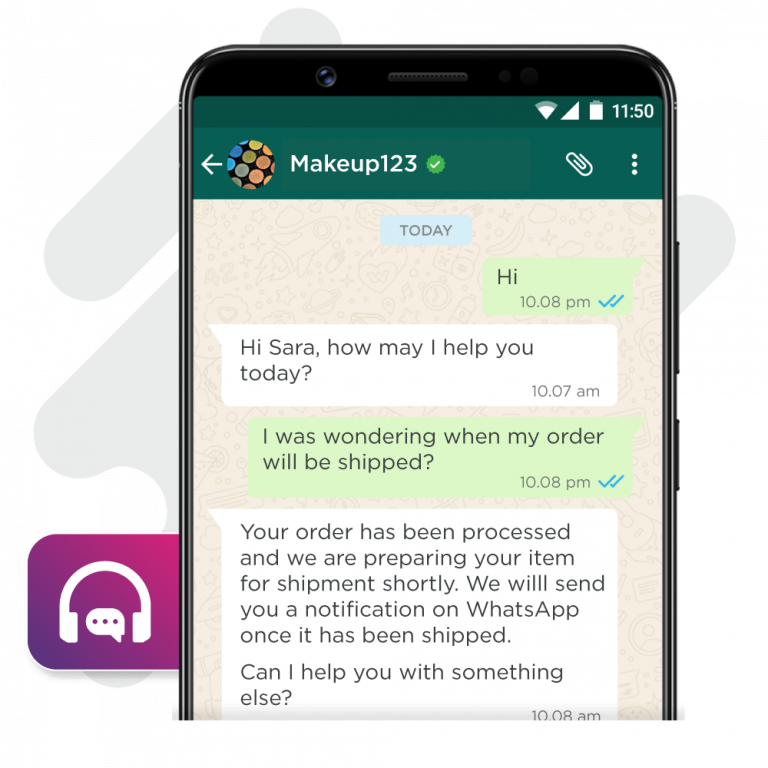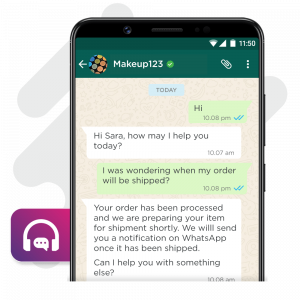 II. Abandoned cart recovery
Cart abandonment is the #1 problem in the online commerce space. In 2020, the average cart abandonment rate was 77.13%!
Traditional methods of reminding users they have incomplete transactions such as email and SMS are quickly falling out of favour. This is where WhatsApp, as the most popular social conversation platform, allows businesses to send abandoned cart reminders quickly and painlessly to people.
WhatsApp messages have a far higher open rate than these traditional marketing channels, making it a no-brainer for your abandoned cart recovery funnels.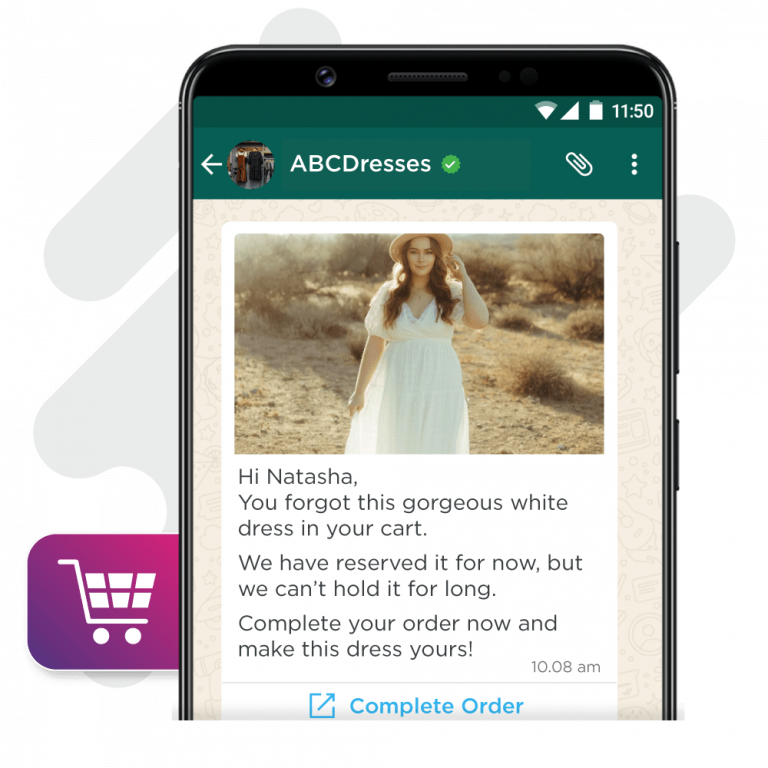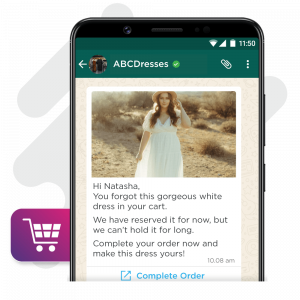 III. Transaction confirmations and Invoices
WhatsApp creates end-to-end secure communications, which means you can easily send out purchase confirmations and invoices over chat.
It is much more convenient for the customer to have all their details easily accessible on their phone so they can refer to it as and when needed without having to sift through a large email inbox.
You should also use WhatsApp to send out shipping notices and delivery status updates to customers so they know exactly where their package is and how soon it is expected to arrive.
IV. Loyalty/Reward points
Creating a loyalty points program is a promising idea to encourage repeat purchases. A lot of brands have loyalty programs but do not utilize them to their fullest potential.
With WhatsApp Business, you can easily create a workflow that intermittently reminds people that you have a loyalty program they can sign up to. If they are already part of such a program, you can gently nudge them to redeem any points they might have.
V. Collect user feedback
Collecting user reviews is usually a hassle, because the more steps someone must take to submit a review (sign up to your site, confirm their email, log back into your site and type out a review) the less likely they are to do it.
With WhatsApp, you can get feedback directly from the customers in one simple step. Ask your customers to simply type in their reviews to you over WhatsApp chat. They can even submit voice notes or videos of themselves talking about your brand if they so desire.
These reviews become one of the trust metrics that other prospective customers who learn about your brand take into consideration before making a purchase.
In conclusion, we hope this article serves as a primer for the tremendous potential WhatsApp Business has as a marketing and conversion asset for your business. At each point in the customer journey, you can leverage the WhatsApp API's unique strengths to make an unforgettable impression.
Previous Post

Lead Generation and Conversion Channel
---
Women Driving The Tech Sales Journey
---
Next Post