Customer communication has always been important. However, traditional technology limited the ways businesses could communicate with customers. Earlier, when a communication channel was chosen to connect with a customer, a lot of steps were involved. The work started with investing in the right infrastructure. Then a team of engineers would need to work on the platform's ability to scale. After this, a code was required to enable the API to perform the specific functions. All these steps were required just to build the platform. Running and maintaining the platform brought in other challenges. 
There had to be a better, more efficient way of setting up business communication. CPaaS brought in this change by providing a framework for omnichannel communication. 
What is CPaaS?
CPaaS, short for Communication Platform as a Service, is a cloud-based platform that enables developers to add real-time communication channels. It enables seamless integration of voice, messaging, video, etc. into one software, through APIs. Since everything is situated on the cloud, businesses can add these channels, when required, without worrying about back-end infrastructure. 
The worldwide CPaaS market size grew from $400 Million, in 2015, to $8.1 Billion, in 2019. It is predicted to reach $17.2 Billion in 2023. For decades, businesses have been shifting towards cloud-based processes and the newest trend in the field, CPaaS, can change the way businesses and customers communicate with each other. By removing the need to invest in hardware, CPaaS is delivering an easier, faster, and more economical way for businesses to build better customer experiences. 
CPaaS versus UCaaS:
Standing for Unified Communications as a Service, UCaaS is used to streamline all communications tools through cloud-based resources. A UCaaS system comes with a set of applications that are most frequently used by businesses. Customizations can be added based on specific needs. In comparison, CPaaS systems are highly customizable.
Both these platforms rely on the cloud to drive key communication functions and make customer communication powerful for businesses. But, they have key differences. One can think of UCaaS versus CPaaS as a One-size-fits-all model versus a Build to Order model. 
UCaaS solutions include traditional communication tools, like call conferencing and VoIP calls. It also binds in collaboration tools and cloud-hosted solutions. Every business can use one or more of the solutions available in this bundle. On the contrary, CPaaS is more of a blank platform that allows businesses to add communication solutions as per their specific needs. Businesses need to decide which offerings suit their needs best and then use APIs to add the features accordingly. Businesses will need to make the choice between CPaaS and UCaas depending on their communication strategies and what they want to achieve in terms of customer experience. 
Advantages of CPaaS:
Most of the successful companies, around the world, have tapped into CPaaS to explore the various communication possibilities that come with it. Here are some of the benefits that CPaaS technology can bring for a business:

Save Costs 
By moving communication from being hardware-focused to being cloud-based and API driven, businesses can significantly cut down on the number of separate systems needed. The money that would earlier be needed for building, maintaining, and upgrading numerous pieces of hardware, is now saved. As a result, businesses can benefit from enormous cost savings and get a chance to allocate their resources to run other operations in the business. 
Easy addition of communication channels 
In this era of mobile phones, customers expect to be able to reach businesses on all the channels they use in their everyday lives. That's why companies can no longer solve all customer problems by simply setting up a contact center. In fact, 90 percent of people say they'd rather receive a text from a business than a phone call. These trends are based on current customer preferences and emerging technologies will change them rapidly. Businesses need to quickly adapt to these changes.

With CPaaS, companies don't need to replace their entire system in order to add a new channel of communication. Since APIs work as building blocks, they can add new channels, like SMS, social messaging apps, etc., to the existing software. Businesses can easily support their customers' changing needs. 

Flexible scaling options
As businesses expand, they need to scale their communications to meet the demands of a larger audience. Expanding into new markets requires licenses, hardware setup, international charges, and many other resources. But, through CPaaS, they can easily scale up or down without any external restrictions. The automatic scaling of APIs allows businesses to provide the best customer experience. In such a way, CPaaS enables businesses to grow according to their market demand.

Global reach
As companies scale their operations and enter new markets, it is important for them to cater to an international customer base. Having their systems on the cloud enables them to get instant multi-regional connectivity, on-demand phone numbers, and even add communication channels that are locally preferred. They can communicate with customers in local languages and send region-specific content. CPaaS eliminates physical barriers and empowers global businesses to provide local experiences for their customers. 


Better customer experience
All of the benefits of using CPaaS to power business communication ultimately add to this one – improving customer experience. One-third of consumers said that they would switch to a competitor after experiencing bad customer service. Be it having a chatbot, a business phone number, or a social messaging channel, customers expect businesses to connect with them in a way that's easiest for them.
So, whether a customer is calling to inquire about their product, using their app to place an order, or messaging them for technical help, businesses need to be present on all channels and provide them the assistance they need. CPaaS allows customers to reach businesses immediately at the point of need. It also allows businesses to be present where their customers are and help them right away.
How Brands Leverage CPaaS:
Today, almost everyone has experienced CPaaS and seen how communication APIs can make everyday interactions faster. Here are just a few examples of what CPaaS has enabled for us: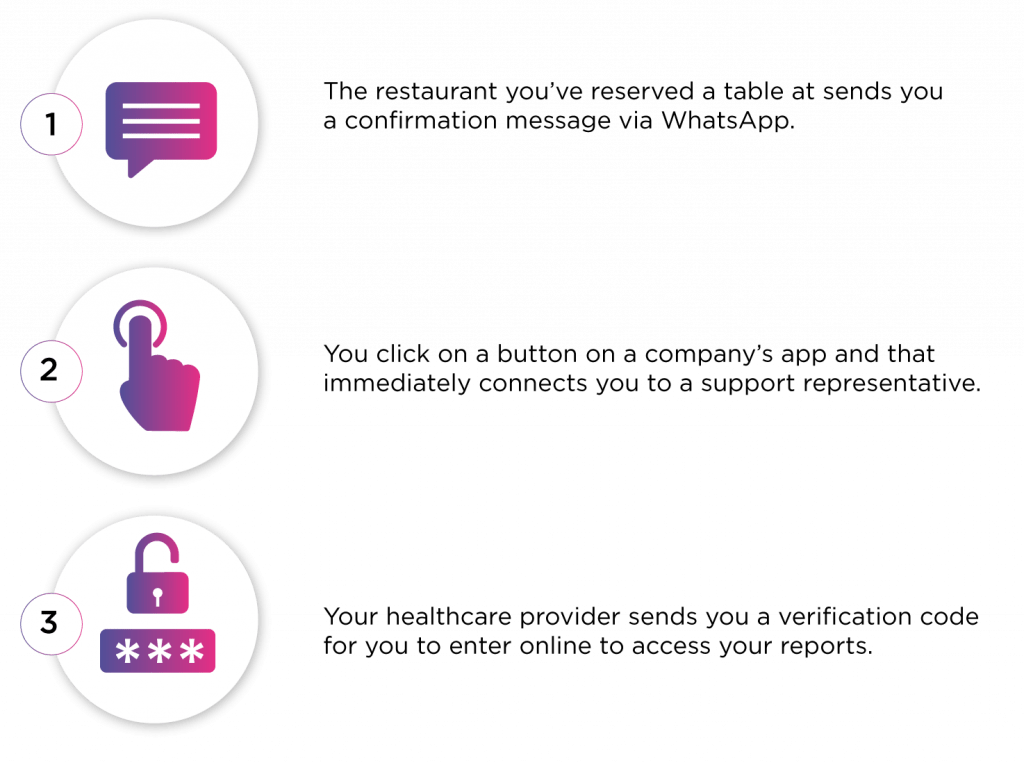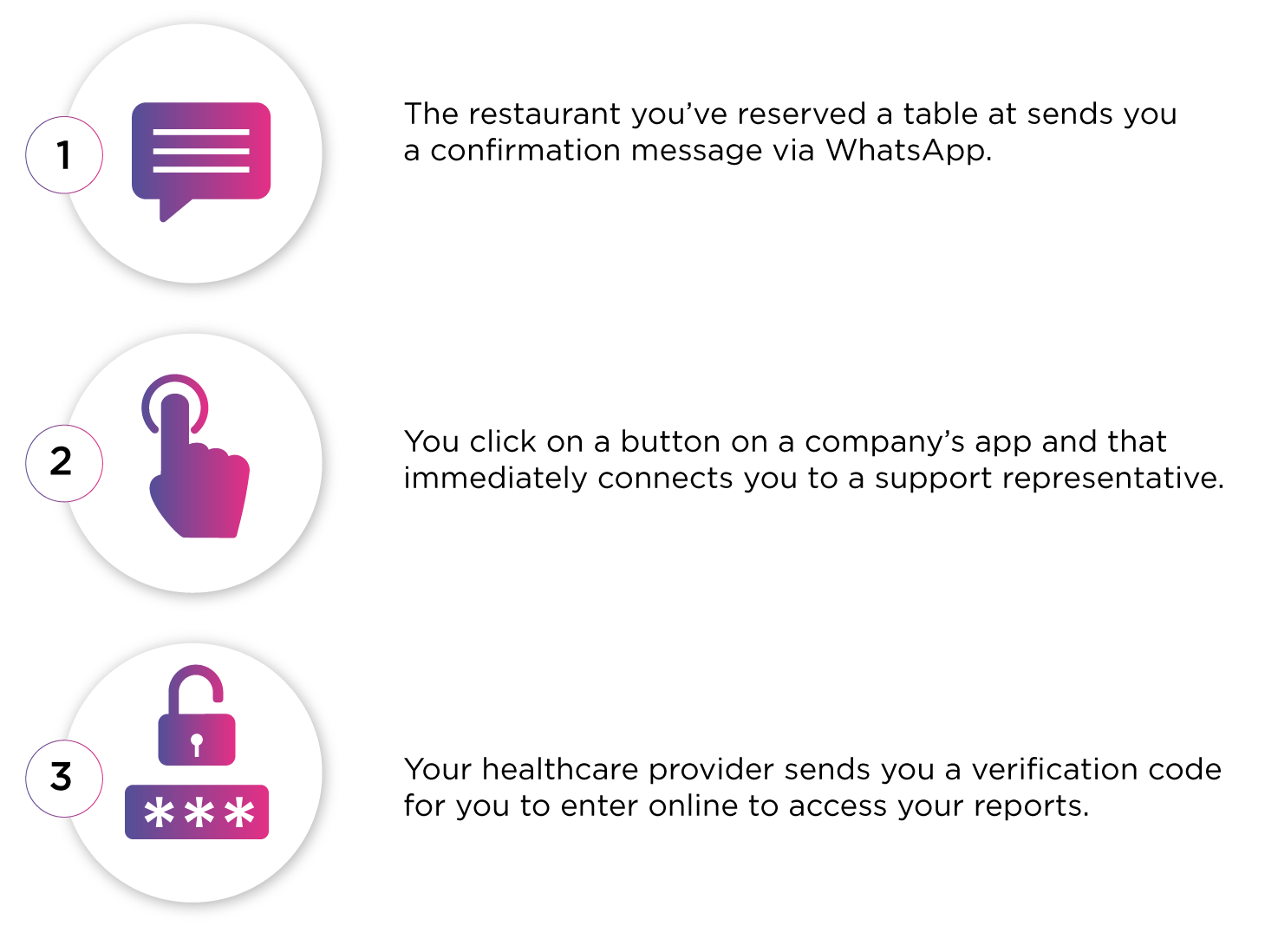 There are several ways businesses can use CPaaS to delight customers, at every step of their journey, here are some of the use cases:
– Simplifying appointment scheduling
How do customers schedule an appointment with your business? Do they call your receptions or can they directly reserve the desired slot through your app?
Cloud-based platforms can help businesses design the ideal patient scheduling experience for customers. Businesses can create a separate scheduling path for new and existing customers since their needs might be different. The platform also helps store customer data like caller profile, details of past transactions, etc., to help the company representatives understand what the customer is looking for and serve them better. 
Through CPaaS, institutes can also open up new channels for scheduling appointments, like WebChat and WhatsApp. As a result, it helps make appointment scheduling easy for patients and efficient for the business. By satisfying customer needs, businesses increase the chances of repurchase. According to Forbes, 73% of companies with above-average customer experience perform better financially than their competitors. Moreover, after having a positive experience with a company, 77% of customers would recommend it to a friend.
Businesses can further enhance their customer experience by sending customers reminders for the appointments they have scheduled. The process can be automated through CPaaS. According to a survey, sending appointment reminders was the primary factor that reduced no-shows. As a result, customers miss fewer appointments and dodge the no-show fees. Additionally, if something important comes up, patients can reschedule their appointment after receiving the reminder. Employees can also use their time efficiently instead of waiting for a customer who's not going to show up. 
– Boosting platform security
Businesses can send OTPs (one-time password) to secure online transactions, account log-ins, financial information, reports, and any other confidential information. Protecting customer data and preventing the business platform from fraudulent attempts is crucial for all companies. OTPs are the more widely implemented 2 Factor Authentication (2FA) solution. When a user is trying to access personal/sensitive information, a unique and random token is generated and sent to the backend of the software. The token is then automatically sent to the specific user to be entered for validation. This adds a second layer of security on top of the user's account password. The token is also set to expire in a few minutes to prevent misuse.
– Enabling secure communication between stakeholders
Ridesharing apps, delivery businesses, healthcare platforms, etc., need to connect their employees and customers. They use a solution called number masking to safeguard contact details while connecting them. The solutions allow users to connect through a third party number instead of their actual phone numbers. This virtual number bridges calls and texts without exposing the identity of the individuals. It also prevents spam calls and personal calls from taking place between them, outside the platform. 
– Allowing customers to place calls with a click
When customers/leads browse through a business's application or website, they can come across features or promotional offers they want more information on. Making them leave the application, pick up the phone, and then dial the contact center are too many extra steps. By the time they actually connect to your agent, they might get distracted or lose interest. Click-to-call is a cloud-based solution that enables users to connect with a company representative just by clicking on a button on the app/website. The feature is powered through a programmable Voice API. It helps businesses guide customers to the next stage of their journey, smoothly. 
– Making data-driven decisions through data analytics
Businesses can run their entire communication from one platform, this means that all the customer data is also in the same place now. CPaaS serves as a rich source of data. It provides a comprehensive view of customer's details, like past interactions, preferences, sales opportunities, prior tickets, etc., making it easy for agents to provide a customized experience for all customers. 
For example, when a customer calls the business, an agent can greet them with their name, as shown in the caller details. The details allow agents to act smartly and contextually. They can use their language of preference to converse. They can also see details of their previous calls and continue the conversation based on that. Customers no longer have to repeat the same details if they are talking to a different agent this time, giving a sense of a 'one' organization. In such a way, customers are made to feel special and have positive interactions every time they connect with the business. 
Businesses also have access to other data and reports that can help them set future goals and constantly advance the business. With detailed analytics on first contact resolution, call abandonment rate, agent productivity, and more, businesses can take steps in the right direction to improve the efficiency of their overall business communication and increase customer satisfaction.
What's More?
There's a lot of other CPaaS solutions that businesses can use depending on their customer requirements. Cloud-based platforms have led businesses, across industries, to anticipate their customers' needs and provide a tailored experience, every time.

Businesses no longer need to build their own infrastructure to take their company on a global level. CPaaS gives businesses the opportunity to align their communication technology according to their product design, bringing in natural user flow and interoperability benefits. There are times when a video might be necessary to solve a customer's problem or when a messaging app might be effective in building a stronger relationship with the customer. At other times, it might be necessary to get on a call with the user or chat with a customer. With cloud-based solutions, a business can be omnipresent. It also gives agents a fuller sense of the customer they're interacting with. By taking complete control of their communications, businesses can foster the best customer experience possible.
Previous Post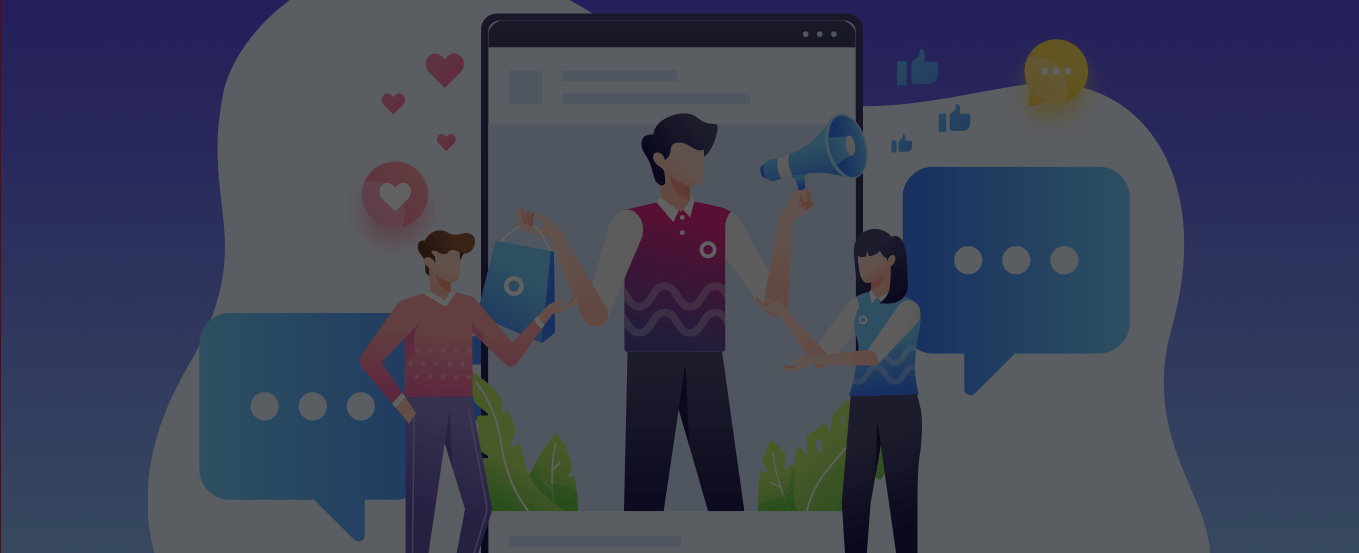 How to Run Successful SMS Marketing Campaigns
---
WhatsApp Business For Conversational Commerce
---
Next Post