The WhatsApp Business Platform has been a game-changer for businesses worldwide. The ability to tap into WhatsApp's potential audience of over 2 billion people, most of whom use the app daily, has opened up a whole new universe of possibilities for brands who want to reach out and engage their customers, offer real-time support, and sell products and services.
But while getting a WhatsApp account for your business might be a fairly straightforward process, the dynamics of succeeding on the platform require a lot of planning and attention to detail.
Today, we will talk about some of the most common pitfalls of using WhatsApp for your business. As you will come to see, offering a great customer experience over WhatsApp is often a question of what NOT to do.
What not to do on the WhatsApp Business Platform
1. Don't spam people
This is the prime directive of WhatsApp Quality Based Marketing – do not send people information or offers they don't need or didn't ask for. If they initiate a conversation with you, you can use the 24-hour conversation window to share any relevant offers, promotional content or cross-sell something they may be interested in.
WhatsApp's Quality-Based Marketing guidelines clearly state that it is a good practice to make users go through an unambiguous opt-in process where they explicitly agree to receive marketing communication from your business.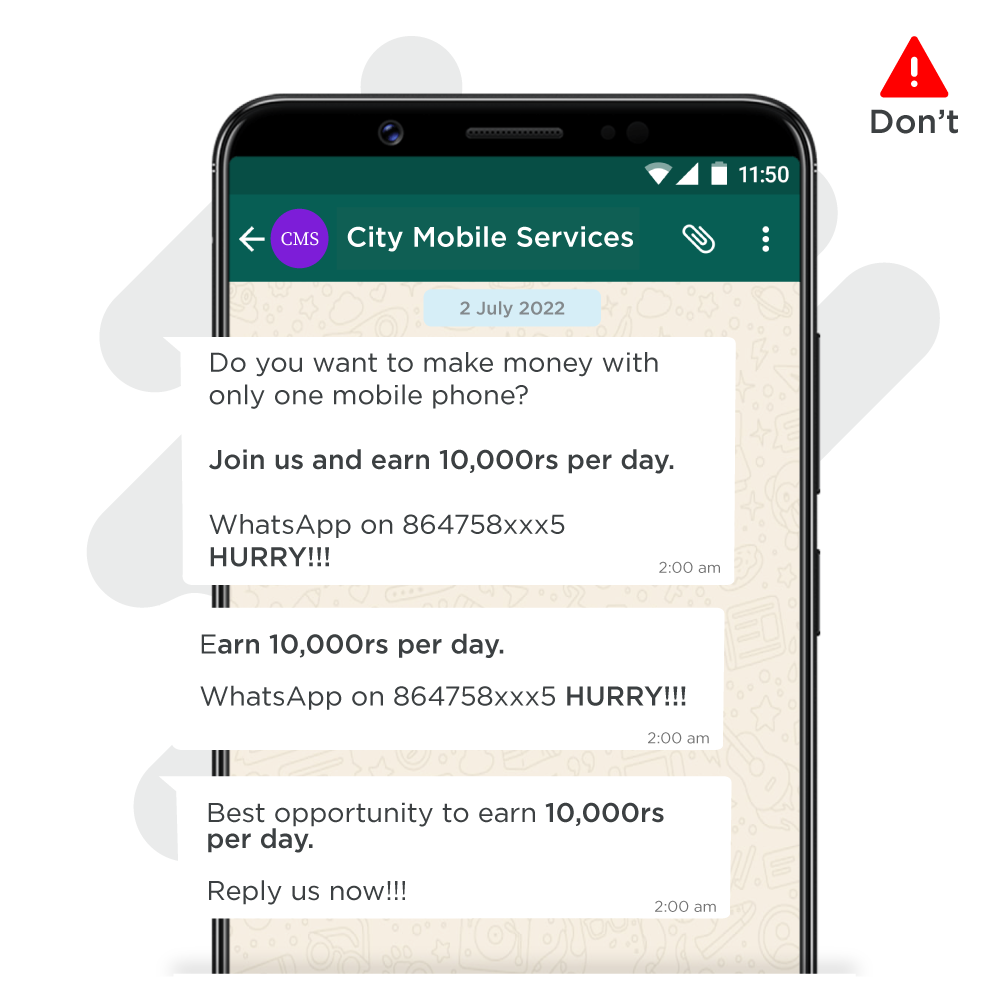 If you start sending unsolicited promotional messages en masse, you will most likely get marked as spam by a significant portion of your potential audience. This will reduce the quality score of your account, leading to issues with deliverability of your messages and in some cases, getting your account banned altogether. Make sure you also use your WhatsApp channel to send important notifications, updates and initiate conversations with your customers to provide some actual value.
You should also have a clear way for people to opt-out from some or all messaging from your business and honor opt-out requests when you receive them.
2. Don't set the wrong expectations
While the option to reach your business over WhatsApp is a great value-add for your customers, make sure that you communicate clearly what your WhatsApp channel is going to be used for.
Are you going to use the channel as a 24/7 hotline? Can customers expect to receive any special coupon codes or discounts over WhatsApp? Can customers find and buy products you are selling over a chat conversation? Can customers call your WhatsApp number if they have any support queries? Will they occasionally receive promotional offers from you if they opt in?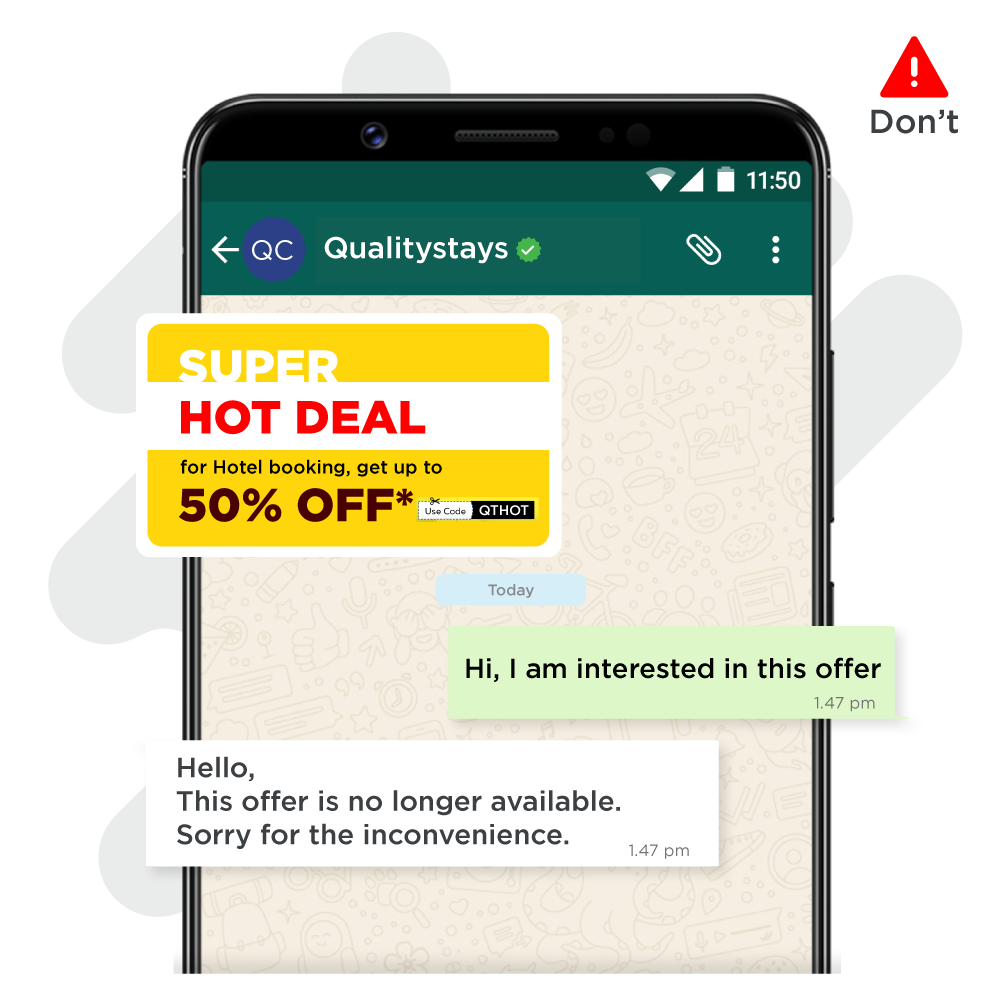 Map out your use cases beforehand and make sure you don't overpromise and underdeliver.
3. Promote gambling, drugs, adult, or other restricted products
WhatsApp has strict content guidelines that are aimed at making the overall experience of using the app better for all its users. One of the main ways this is enforced is by disallowing certain business verticals from using the WhatsApp Business platform.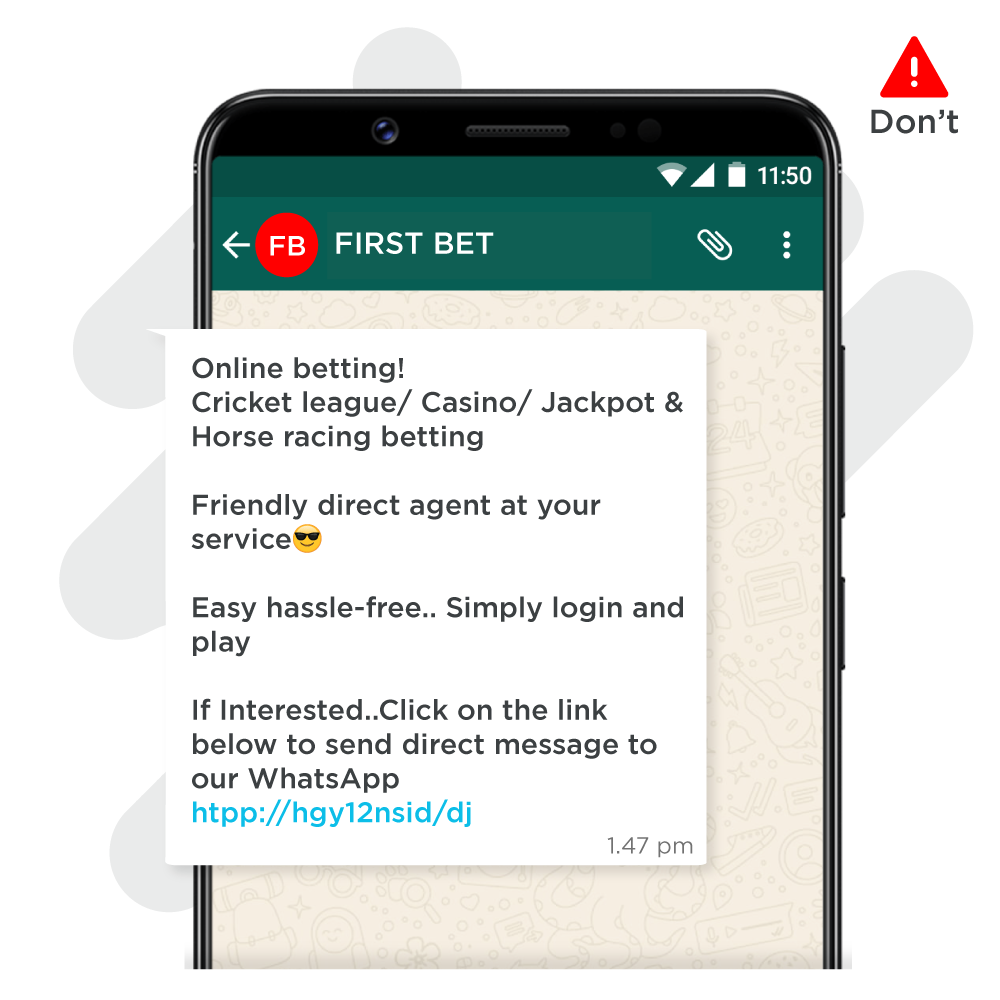 Verticals that are prohibited include
-Adult content
-Alcohol products
-Tobacco and its derivatives
-Dating or relationship offers
-Animal sales
-Any type of weapons/ammo or defense related content
4. Don't send too many emojis
Emojis are like hot sauce – they are best used in moderation and only when they enhance the impact of the message you want to send out.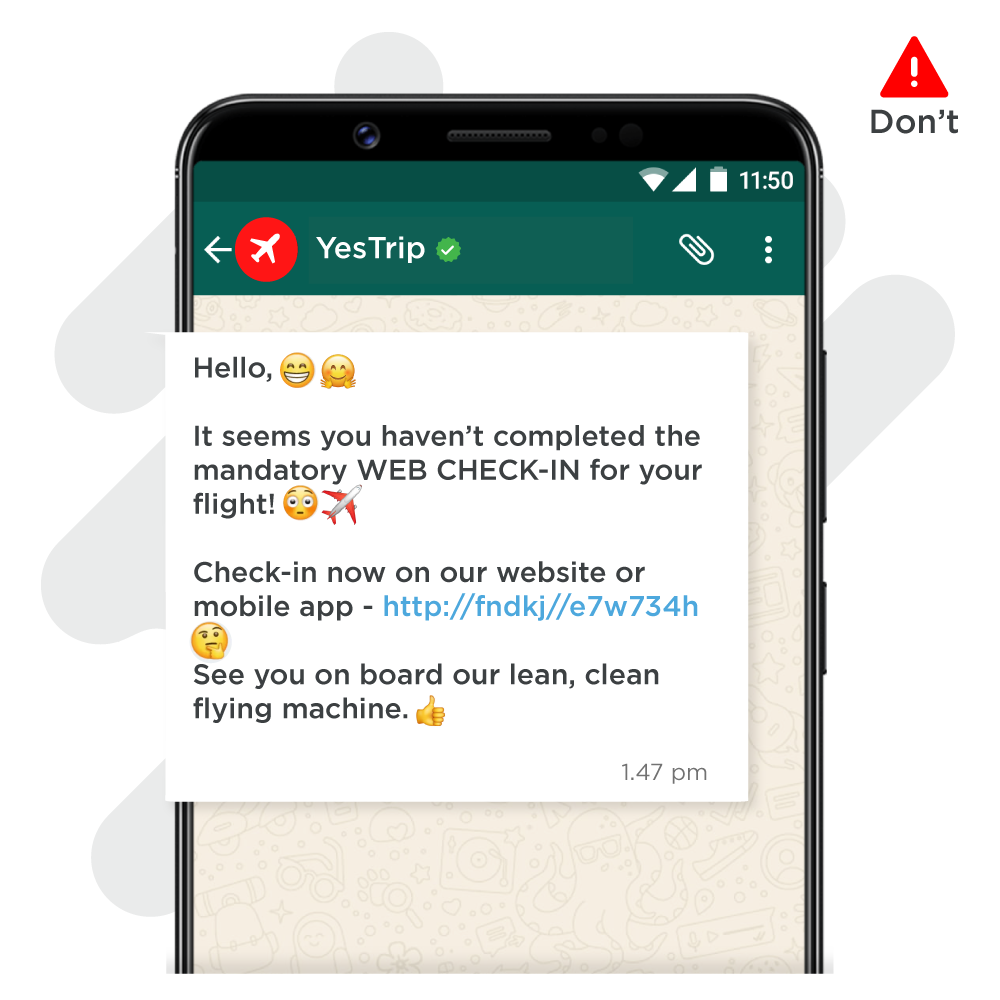 It is fine to use the odd emoji to convey a tone (happy/excited) or underscore a call to action (e.g., call/email emojis). Just make sure you don't go overboard. Our rule of thumb recommendation would be to use 4 or fewer emojis if possible.
5. Don't make spelling and grammatical mistakes

Let's say you were reading the brochure for a financial advisory business, but the whole text was formatted in a weird way. Or maybe you receive a free-form message from the business that wants you to entrust them with your finances, but every paragraph is filled with glaring spelling mistakes. Would the grammatical snafus make you more likely to sign on as a customer of the said business? Probably not.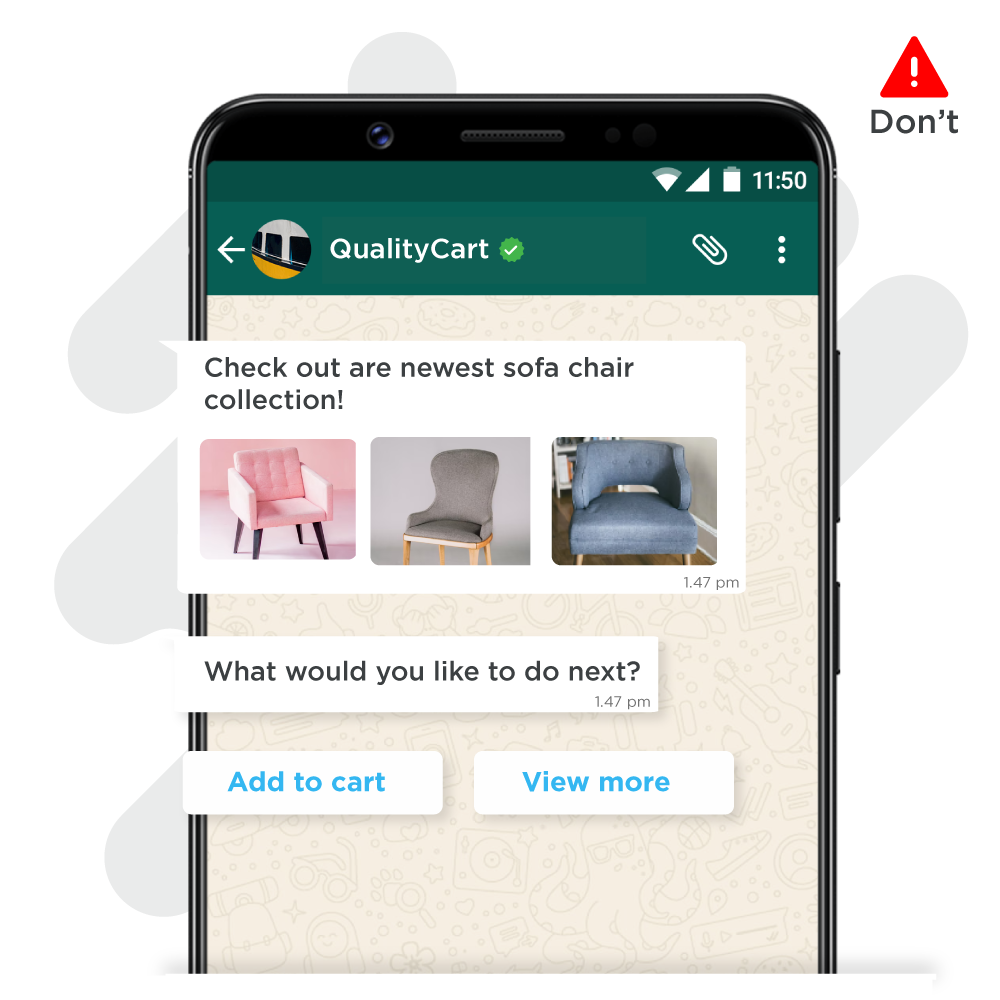 Bad grammar and spelling can get your message templates rejected by WhatsApp outright. But even if they aren't, it will definitely hurt your chances of being taken seriously by the people you reach out to.
Make sure you double and triple-check for any grammatical issues before you send out any messages.
6. Don't make it unclear what the user needs to do next after reading your message

So, let's say you have crafted the perfect promotional message that both represents an emotion you're going for and aligns with your brand voice. However, if you don't include a clear call-to-action (or include too many) you are going to dramatically reduce your chances of a conversion.
Do you want your users to call you after they read the message? Is there a PDF you would like them to download? Should they visit a certain page on your website? Let them know.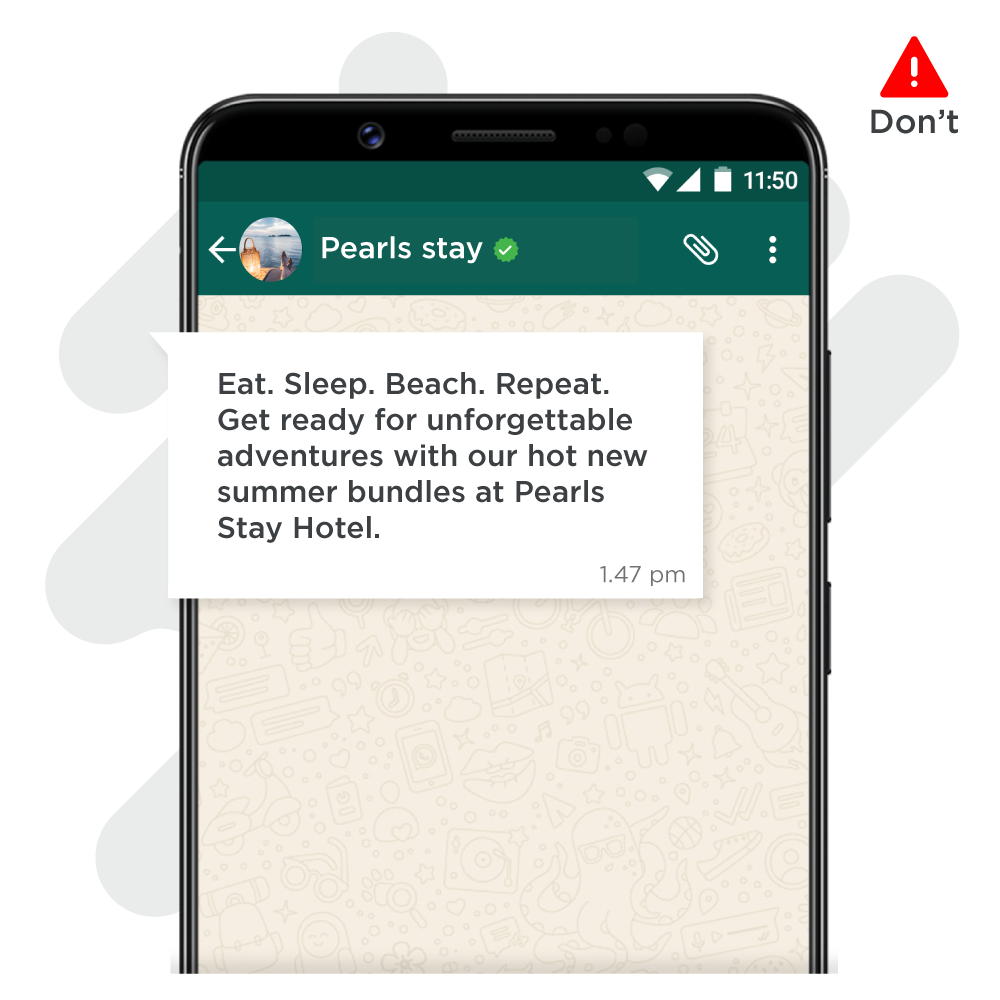 Always include a clear call-to-action at the end of your messages when appropriate and include Quick Reply buttons to enhance the overall customer experience.
7. Don't misuse user data

As we have established, you need to comply with WhatsApp guidelines and other regulations that may be applicable according to the law of the land when you are collecting user data such as phone numbers, addresses, behavioral data etc. Don't ask people to share other sensitive information such as account numbers, social security information or card details.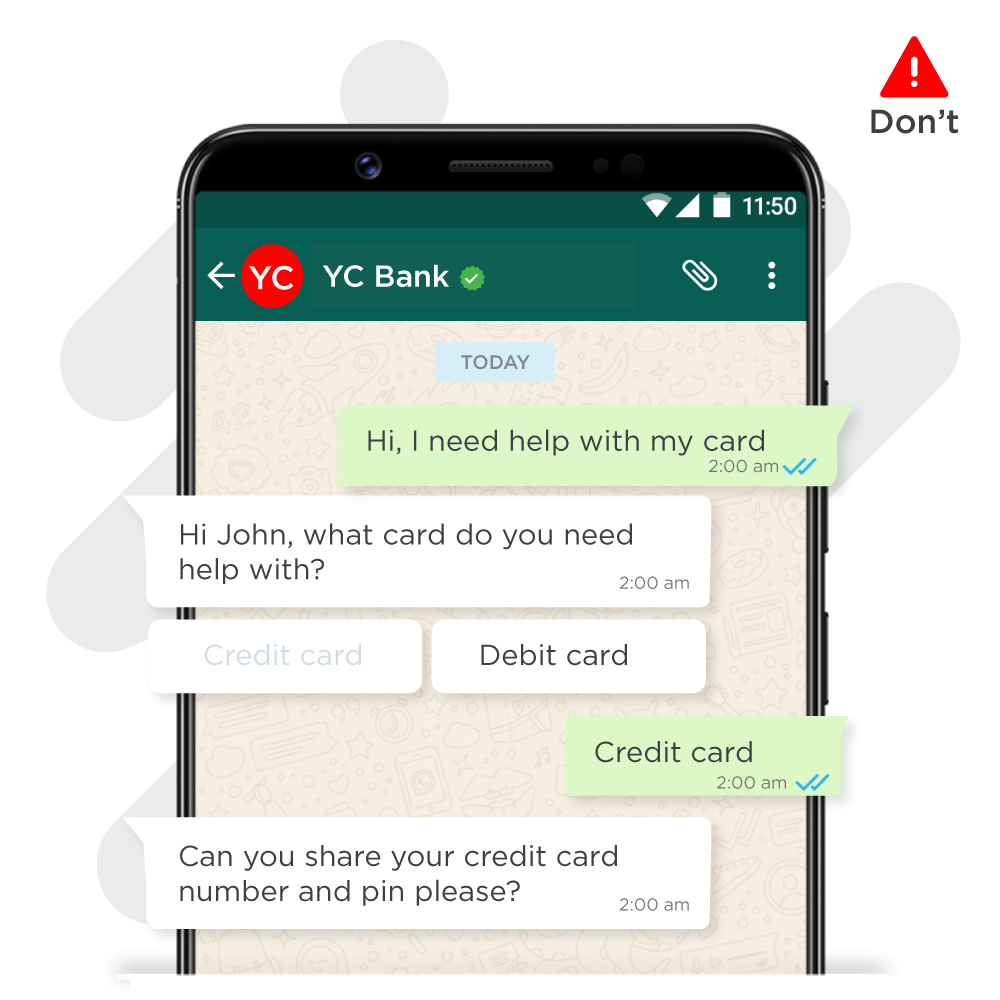 Make sure the only time you use this data is when you are providing contextual support to them within the context of your WhatsApp conversation. You are not allowed to share information that one customer may have divulged to you with a different customer you are chatting with.
The WhatsApp Business Platform is meant to drive higher quality conversations between businesses and their customers. By steering clear of the mistakes, we have outlined above, you will automatically set yourself way ahead of most of your peers.
If you would like to improve your WhatsApp marketing even further and learn some more insider tips, make sure you bookmark the Karix blog and read through the other detailed articles we have on this topic!
Previous Post

Choosing the Right Marketing Automation Partner
---
RedBus, Karix partner to launch LTS service on WhatsApp
---
Next Post