Gmail is a free, advertising-supported email service developed by Google. In February 2016 Gmail crossed over 1 billion users.
In May 2013, Google updated the Gmail inbox with tabs which categorizes the emails. The five tabs are Primary, Social, Promotions, Updates & Forums.
In addition to customization options, the entire update can be disabled, allowing users to return to the traditional inbox structure.
The special feature of Gmail is its algorithm, which automatically scans emails to add context-sensitive advertisements next to the emails and to filter spam and malware.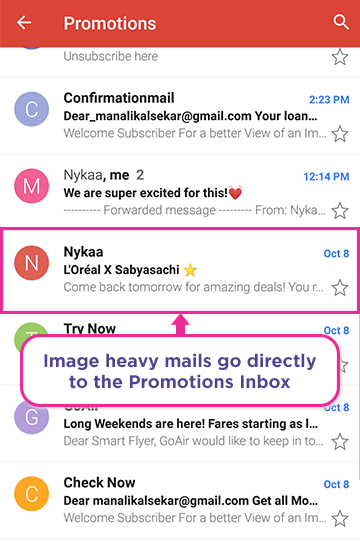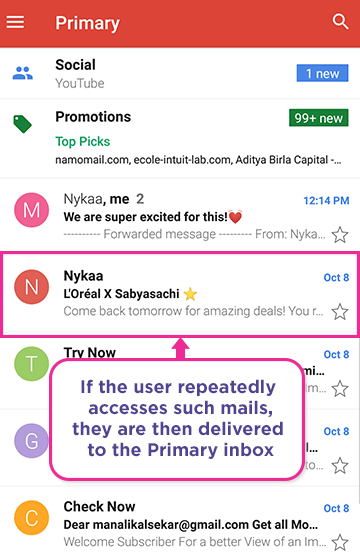 Customization in inbox tabs by Gmail directly impacts email marketing with lower user engagement, opens, interaction, etc. No ESP (Email Service Provider) can guarantee their clients to give Gmail inbox placement.
Delivery of emails in Gmail is now completely based on the subscriber behavior. Gmail's algorithm decides the placement by understanding the user's behavior on receiving unsolicited emails.
Today most of us check our emails on smartphones. According to a new study, smartphones only notify the user when an email lands in the primary tab. So it's imperative for an email marketer to land his email in the primary tab.
According to new study smartphones only notify their user when
any mails lands into the primary tab.
But the Question is How?

Start with the Content of your Email.

For placement into the primary tab, you should focus on the content of the email because Gmail algorithm decides the placement of the incoming email on its content.
It checks the content for:
Size of the image blocks
Keywords in the content
Text-color
Company address, etc.
I have tested many content formats and noticed that it becomes very difficult to deliver the email in the primary tab if it contains more than 2-3 image blocks, keywords like "price, offer", "exclusive", "e-statement", etc.
I have tried numerous combinations and in most occasions, the email landed in the promotion tab. But when I used simple text with 1 image block, then the email landed in the primary tab.
Get your Email Template White-Listed
If you are aware of SMS marketing, for sending transactional SMS notifications, companies need to white-list their SMS template to avoid getting blocked by the gateway. Similarly in email marketing, the behavior of the users white-list the gateways.
For placement into the primary tab, I would strongly recommend email marketers to test their template on any mailer testing tools like Litmus, Email on Acid, etc, before sending the email.
After testing the template you can use the same template structure for at least 30-45 days during your IP warm-up plan. This practice will help you to white-list your brand with the subscriber.
Previous Post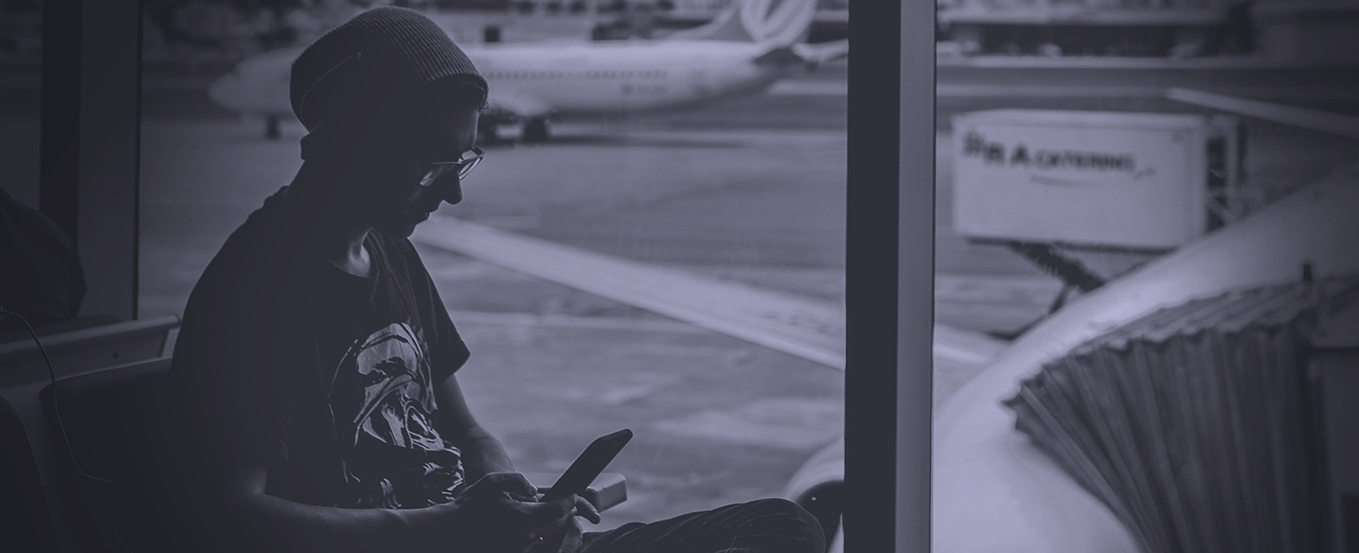 Driving Customer Delight with Hyper Personalization
---
How to Plan your Chatbot Implementation
---
Next Post